So, I'm totally in love with
Kenner Road's kits
and the inspiration
Kerry Lynn Yeary
is dishing out. When I saw this kit, I had to get it, even though I didn't have a sewing machine - I just figured I'd hand stitch it, but I didn't care! Then, when the hubs surprised me with the machines, I was thrilled to make this my first official project.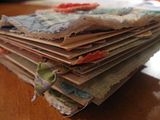 It's such a cleaver project idea - she took a vintage quilt and cut it into pretty pieces to use as the book's covers. There were even vintage book pages from some kind of sewing book, so it was all fitting. KL used her book to document an event, but I decided to make mine a sewing reference manual, as I was buried in the manual and online resources trying to learn all the stitches!


Now I'll have this cute little book as a reference guide for all my sewing projects - yay!